Navarro parents, This is a message from your campus nurses. Please remember to pick up your child's medication by tomorrow, Thursday May 27 before the end of the school day. All meds MUST be picked up, if they are not, they WILL be disposed of by the campus nurse. Thank you

Good morning Navarro ISD parents. The storms that rolled in during the night did not affect the school district and each campus does have electricity and water. We understand that some families may have been affected by the storms during the night and may be experiencing loss of power. If your family is experiencing difficulties preparing for school, students will not be penalized for arriving late. Thank you and be safe.

Good afternoon Navarro Panther Families. This call is to let you know that we are having an early release this Friday, May 21 at 2 pm. Our Boys Baseball team is advancing to the 4A Regional Quarter Finals this week. They will be playing against Canyon Lake on Thursday and Friday at 4:30. Since it is the best of 3 games, if a 3rd game is needed, it will be on Saturday at 4:30. All games will be held at NorthEast ISD Complex in San Antonio. We hope that all our Navarro Panther Fans will be able to come out and support our baseball team. It's a GREAT day to be a Panther.

Good afternoon Panther families. We hope that everyone has enjoyed their extended weekend. The district would like to remind all 4th, 7th and 9th grade students that they will be taking the STAAR Writing test tomorrow. Please help our students prepare by making sure they get enough rest tonight and start their day with a great breakfast! We can't wait to see everyone back in the halls tomorrow! Have a great evening.

Incoming 9th Grade Parent Nights will be held on Monday, March 8th and Tuesday, March 9th beginning at 6:00 pm in the high school cafeteria. Monday will be for students with last names A-L and Tuesday will be for students with last names M-Z. Information regarding course selection, high school programs, advanced academics, and four year plans will be discussed. This will be an in person event, and a live stream will also be available. The link for the stream will be posted as soon as it is available through Facebook and the Campus Website.

Navarro Community, Today at 1pm we will begin maintenance on our district and campus websites. Maintenance will include a few quality of life upgrades and other improvements. Please allow 15 - 30 minutes for the changes to propagate. Thank You

Navarro Junior High will be conducting the SHARE (Sexual Health and Relationship Education) Program Wednesday - Friday of this week to all 7th and 8th graders. If you do not want your child to attend please send the parent permission slip back to Mrs. Holtkamp before the presentation or give her a phone call if you are a remote learner and you don't want your child to attend. IF you are a remote learner, this is during your Science class so you are to attend this class unless you have turned in a parent permission slip or spoken to Mrs. Holtkamp about not attending. Thank you.

Navarro Junior High will be conducting the SHARE (Sexual Health And Relationship Education) program. 7th and 8th grade students will attend this 3 day class during their science class starting November 4-6, 2020. If you do not want your child to attend this program please fill out the parent permission slip and send it back to the school nurse (Mrs. Holtkamp) asap. Parent permission slips went home today 10/22/2020 with your student during tutorial class. For more info about this class call Mrs. Holtkamp 830-401-5550 or go to South Texas Pregnancy Center and click on schools.
https://www.southtexaspregnancycarecenter.com/


A reminder for all Junior High Parents: Tomorrow is picture day for 7th and 8th graders! For in class learners, it is from 8:30-11:30am. For remote learners, please come to the JH Cafeteria from 1:30-3:30pm.

Attn: Navarro ISD Remote Learners Only can pick up meals curbside at the Navarro Intermediate from 11 am to 12 pm Monday thru Friday.  You will receive a lunch for the current day and a breakfast for the next.  The cost of the meals are as follows: Elementary/Intermediate: Breakfast $1.00, Lunch $2.85 Jr. High: Breakfast $1.00, Lunch $3.00 High School:  Breakfast $1.00, Lunch $3.25

The video recording of parent training will be posted later today due to technical difficulties. We will hold the second live session for parent distance learning training at 6:00pm and a recording will be posted after. Thank You

We will begin school on Wednesday, August 19. We are looking forward to seeing your student either through remote learning or on campus. We currently have 10 staff and 10 students who have tested positive for COVID 19 since Saturday, August 8. All positive cases have been quarantined and those with close contact have been contacted. We are looking forward to a great school year.


Out of an abundance of caution and effective immediately, Navarro ISD is suspending all athletic activities to include sports specific training as well as strength and conditioning workouts until Thursday, July 9 (due to UIL dead dates). This decision was based solely upon precautionary measures in an effort to keep our student-athletes and staff safe and healthy and to secure the start of all fall sports. Please remain vigilant and continue to follow all safety guidelines. We look forward to seeing you all on July 9.

A final video to close the school year, and this time of distance learning. Panthers you did so well and we are so proud of you all. Have a fun, happy, and safe summer and we look forward to seeing you in the fall. #ApartByDistanceTogetherInLearning
https://youtu.be/Wx_Yt9OH1ic



Congratulations, Jennifer Leal, Navarro Junior High School Teacher of the Year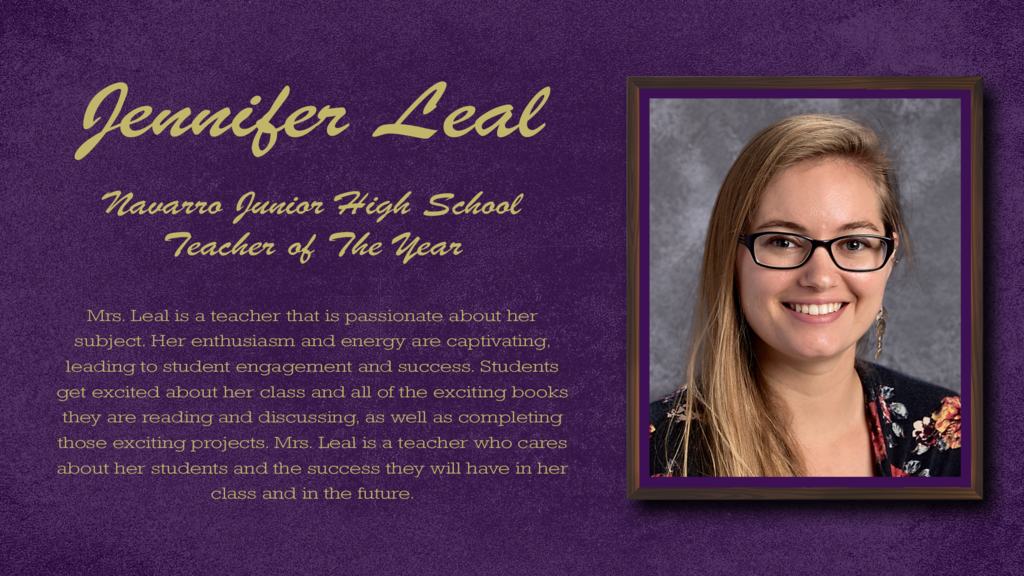 We were a bit late to the party on acknowledging our awesome Food Services staff, but we just could not let this awesome team go without recognition! We are so thankful for the hard work you all put in everyday, and are very proud to have you on our Panther team!